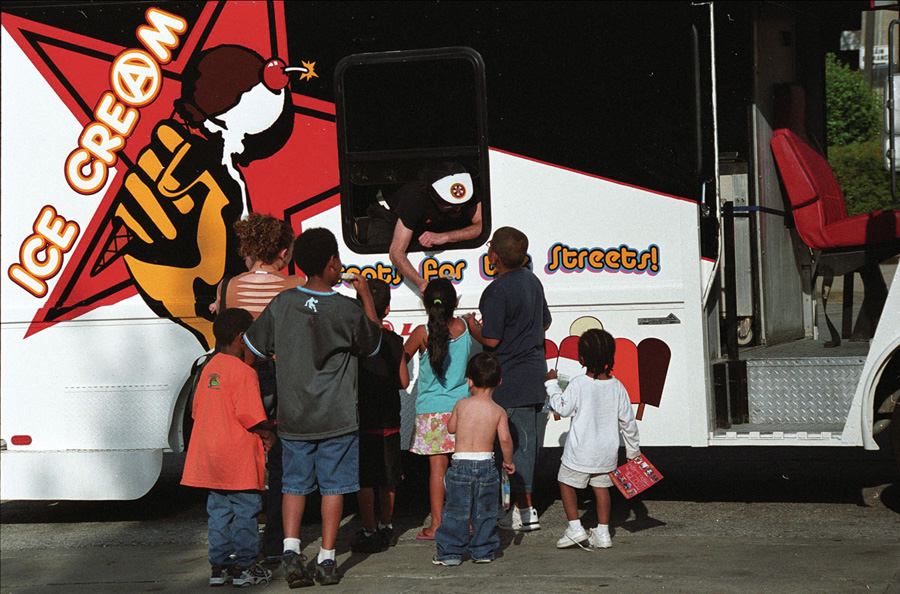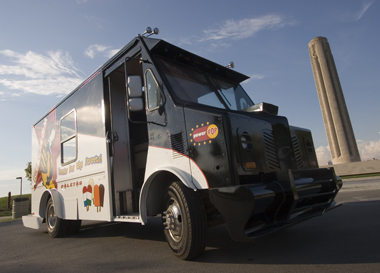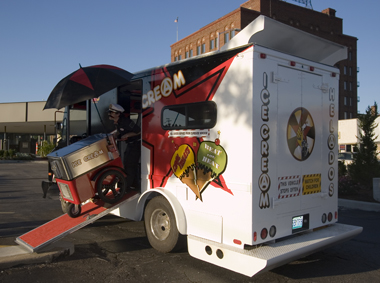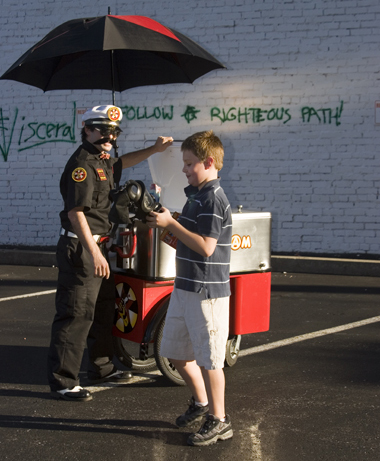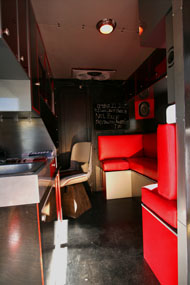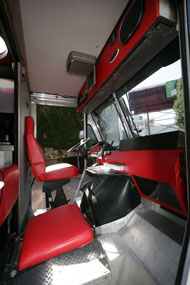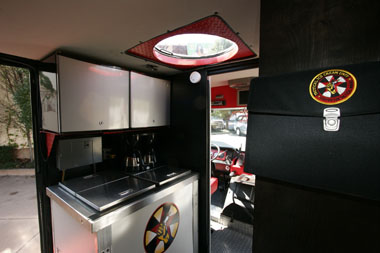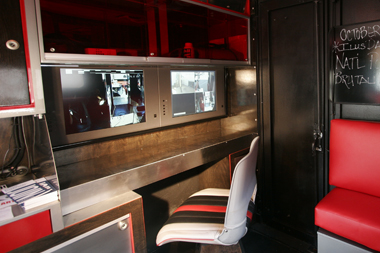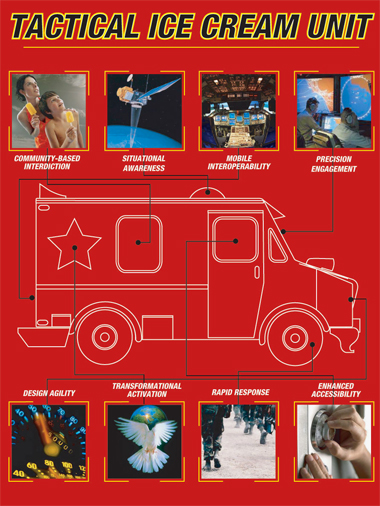 The Tactical Ice Cream Unit
Frosty Treats & Food for Thought!
The ice cream vendor has long been synonymous with a roving oasis - a well-spring of refreshment; a reprieve from the heat; a cool intervention. In this regard, the Tactical Ice Cream Unit (TICU) is no different. The TICU emerges at a time when most channels of distribution, communication, and social interaction are mediated and constrained by the fervor of financial exchange. Incorporating an alternative strategy of utopian potlatch, the Tactical Ice Cream Unit is envisioned primarily as a mobile distribution center for ice cream and information.
More than meets the eye -
The Tactical Ice Cream Unit (TICU) rolls through the city in an act of intervention that replaces cold stares with frosty treats and nourishing knowledge. Combining a number of successful activist strategies (Food-Not-Bombs, Copwatch, Indymedia, infoshops, etc) into one mega-mobile, the TICU is the Voltron-like alter-ego of the cops' mobile command center. Although the TICU appears to be a mild-mannered vending vehicle, it harbors a host of high-tech surveillance devices including a 12-camera video surveillance system, acoustic amplifiers, GPS, satellite internet, a media transmission studio capable of disseminating live audio/video, and of course, ice cream. With every free ice cream handed out, the sweet-toothed citizenry also receives printed information developed by local progressive groups. Thus, the TICU serves as a mobile nexus for community activities while providing frosty treats and food-for-thought.
Integrated Technologies -
In these times of "heightened security" the TICU takes a Do-It-Yourself approach in confronting the rhetoric of "Big Brother". More than creating an undercover, Mission: Impossible aesthetic, the TICU's full surveillance suite provides grassroots access to mobile communications technologies. Whether used to produce independent community news or to monitor such "un-American" activities as corporate dumping or police brutality, the Tactical Ice Cream Unit will investigate the limits of "neutral technologies". Equipped with a mobile satellite internet system, the captured video can be viewable in real-time and recorded via a remote website. Additionally, the various surveillance technologies are used to accumulate recordings which will provide a unique audio/video account of the local geography. As such, the vehicle's GPS unit helps determine the routes taken as the Tactical Ice Cream Unit maps out the urban landscape through its daily tour of duty.
Community Experience -
At various times the Tactical Ice Cream Unit invites visitors to explore the interior, view documentation of the street operations, or collaborate on "missions". Local community groups may also suggest uses for the TICU (i.e. support a strike, a beach clean-up, protest, or a neighborhood block party). Whether lurking in a corporate parking lot or chillin' in a neighborhood park, the Tactical Ice Cream Unit is sure to attract people from all walks of life.
Always Prepared -
The TICU is prepared to augment any event. Should the Tactical Ice Cream Unit wander into the vicinity of a rally, protest, or civil uprising, it is equipped to provide a valuable service by supplying activists with various, in-demand items (water, first-aid, film, gas masks, water balloons, etc.). In addition to offering delicious frozen desserts, the Tactical Ice Cream Unit serves as a mobile oasis where activists can quench their thirst, replenish their energy, reload their cameras, document unfolding events, protect themselves against various crowd dispersants, shield themselves from the elements, and arm themselves with educational materials - all without having to leave the protest vicinity. In short, the Tactical Ice Cream Unit seeks to protect, provide, energize, invigorate, and educate its audience.
Operations -
The TICU is divided into a "mother ship" (Central Command Van) and a "scout" (Tactical Ice Cream Cart) to better facilitate a range of operations in a wide variety of public spaces. Acting both as a transport and as a re-supply vessel, the Central Command Van (CCV) offers valuable support for the Ice Cream Away Team. By adopting the form of the nomadic street vendor, the TICU can successfully navigate through zones of increasingly privatized public space in a manner which is only encouraged by the authorities' request to "move along." In so doing, the Tactical Ice Cream Unit is sure to encounter yet another citizen in need of nourishment. Providing food and food-for-thought, the Tactical Ice Cream Unit merrily activates public space with wholesome information and good humor.
The TICU has been conducting Pop Ops on an ongoing basis since October, 2005.
Want to see the TICU throw down in your town? Contact us to set up a tour stop in your town, barrio, school, exhibition space, or other venue!